At a Glance: QT Fleetmaster Card


Revolving credit option available

Fill up at over 1000 QuikTrip locations


More security and control than credit cards or cash

No setup, annual or monthly card fees

Automatic fuel accounting
Security and Control to Protect Your Bottom Line

Know Who Spends What, Where And When
PIN authorization at the pump to curb misuse, and help you track spending by employee, location, time of day, and more.

Stop Wasteful Spending Before It Starts
Set employee limits that work best for your business—by amount, location, authorized times, even product type.


Prevent Unauthorized Purchases
Transactions outside your limits are stopped at the pump.
Easy online and mobile account access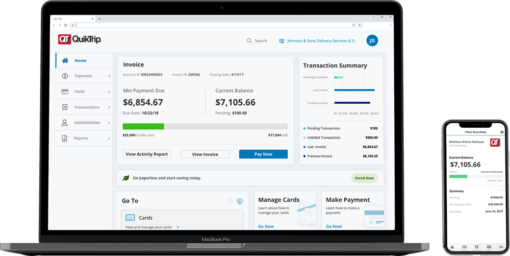 ACCESS YOUR ACCOUNT ANYWHERE
View card activity, access invoices, download reports, and more.
MANAGE CARDS AND EMPLOYEES
Instantly add, cancel or update card and driver info.
USE OUR MOBILE APP WHEN YOU'RE ON THE GO
Make payments, check available credit, manage cards, and more.
Automatic fuel accounting and reporting

Instant online accounting
Details like driver, location, fuel grade, and sales tax are captured for each transaction—so you don't have to chase down gas receipts.

Track spending in easy one-click reports
Get the most out of your fueling data—and uncover new ways to save. Includes purchase activity reports, summary reports, exception reports, and tax exemption reports (for qualified businesses)
Save on products and services for your business!
Access exclusive discounts on auto parts, tires, hotels and more. When every expense matters, the QuikTrip Fleetmaster Card helps you get more for every dollar.†
Looking for flexible monthly payments?
Our revolving credit option lets you pay in full or carry a monthly balance, to help manage cash flow.
Call 1-888-737-7633 to learn more.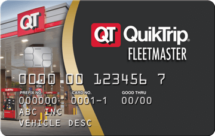 Let's Talk
We're here to answer all of your questions.