QuikTrip Fleet Cards—Our fuel solution for business


Know where the money goes
See who spends what, where and when
Capture detailed info for every purchase
Use simple online and mobile tools

Rein in employee spending
Limit use by amount, time/day, product, and more
Set spending limits by employee or card
Driver PIN authorization to curb misuse


We'll do the paperwork
Automatic fuel accounting and expense tracking
No need to collect employee fuel receipts
Easy one-click reporting

COMPARE QUIKTRIP FLEET FUEL CARDS
Choose the right one for your business.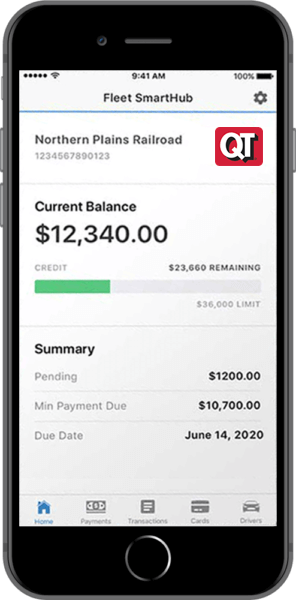 Easy mobile account access
Not in the office? Use our free app to make payments, track spending, and more. It's the mobile control center for your QT fuel card.
Look up Driver IDs
View and filter transactions
Make or schedule payments
Know your available credit
Cancel lost or stolen cards
Spot potential misuse
Save on products and services for your business!
Access exclusive discounts on auto parts, tires, hotels and more. When every expense matters, QuikTrip Fleetmaster fuel cards help you get more for every dollar.†